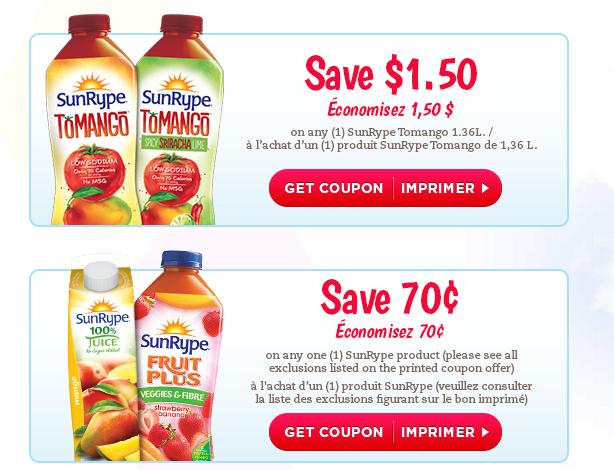 There are currently two new printable coupons available through the SunRype coupon portal! The coupon valid on any SunRype product has returned, but this time it is for 70 cents off instead of $1. Still a great coupon, but there are some restrictions listed on the coupon. I have not yet printed it off so I am not sure what those restrictions are, but be sure to read them carefully and use the coupon accordingly.
Next is a coupon for a new SunRype product, called ToMango juice. Yep, you guessed it…tomato and mango…together. Not sure how I feel about this, or how this even came to be, but if you are inclined to try this product you can save $1.50 off your purchase with this printable coupon. This new and strange variety of SunRype juice is available in original ToMango, or if you are feeling even more adventurous you can also try the Sriracha Lime flavour.
These are SmartSource coupons, therefore the limit of two prints per computer per coupon will apply.