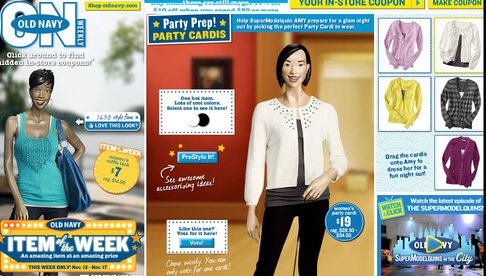 The hunt is on! Every Thursday night, Old Navy posts great coupons on their Old Navy Weekly website. These coupons are valid in Canada, on any items (not just regular price) and are valid for a week before the new ones get posted the following week.
They get snapped up very quickly, especially the big ones so you have to be around and ready to get them when they post.
Here are the coupon locations for this week:
$65 off $100 – Drag the white cardigan onto the mannequin and click on the picture frame, a dog will appear, stars will fly out, click on the stars. GONE
$45 off $100 – Drag the black striped cardi, click prestyle and click the white light as it moves up on the right side. GONE
$10 off $50 – Drag purple sweater, put the stars anywhere in the sky.
15% off – If you click on the nail when shes still wearing the white tank, key is to click the nail twice.
I had the location of the $65 but it did nothing, and then minutes later I tried it and it said it was all out. Maybe I clicked on the wrong star, oh well.
Don't fret guys, you can get 30% off this week anyway with the Give and Get promotion, so any coupon under that is worthless, and you can't combine deals.