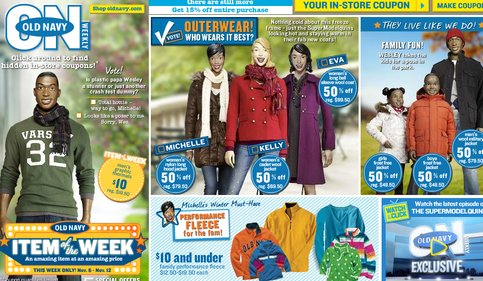 Another week of coupon hunting! Old Navy posts awesome coupons on their Old Navy Weekly website every Thursday night. The coupons include $75 off $100, $50 off $100, 25% off and some others. The high-value ones are gone fast. No one knows when exactly the site updates but it is typically around 7-8pm.
Here are the coupon locations this week (Coupons are valid Nov 5- Nov 12)
$65 off $100 – Click Eva box, then Kelly box. GONE
$45 off $100 – Click on yellow fleece, it wraps around blue, click on blue, hearts pop up, click on hears GONE
25% off – Catch the first leaf falling from the tree.
20% off – Grab all 5 exclamation marks and put them near "Michelle's must haves" find the ! from these locations: Middle pic ….Outerware, Vote, Coats, Right pic….Do, Fun
$15 off $75 – Put gloves that little girl is holding in blue fleece with stripes.
It sucks there was no $75 off again, but with the 50% off sale on outerwear, it is decent to use the 25% off coupon together.