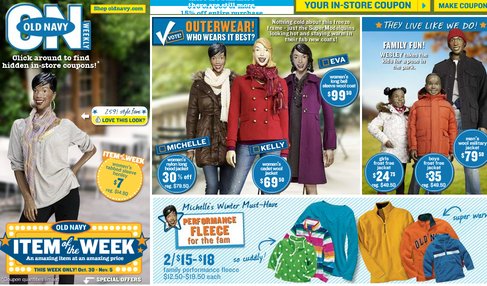 Old Navy offers coupons on their Old Navy Weekly website every week, these update every Thursday night and are snatched up quick. The site is like a treasure hunt, you click on random things and hope there are coupons hidden there. The high value coupons on there are $75 off $100 purchase, $50 off $100 purchase, and 25% off.
These are valid in Canada and in the US. I know the site lists that prices are only valid in Canada, but refers to the prices they have quoted, not the coupons themselves. People on the forum have used these coupons week to week in store with no problems, I have as well.
The coupon locations for this week (coupons valid from Oct 30- Nov 5) include:
$75 off $100 – None this week!
$50 off $100 – Collect all the exclamation points and then put 7 of them on Michelle's shirt (Go got them from Vote! Outerwear! Coats! Fun! Warm! Cuddly! and Do!). GONE
$25 off $100 – Click on yellow fleece, coupon comes up, get out of it, click on blue fleece, fleeces will wrap around themselves and hearts pop up, click on the hearts.
20% off – Click on the leaves that fall from the tree in top right corner of page.
$10 off $50 – Click on the gloves the little girl is holding and drag them to the blue small fleece on bottom.
15% off – Click on yellow fleece on the bottom
10% off when you buy plaid item – Click on the white scarf around Michelle's neck (girl in the middle with brown coat on)
Click here to search for your own!