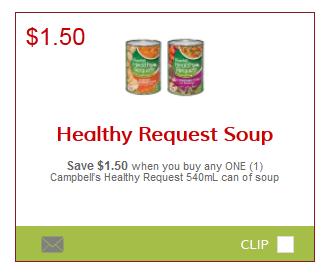 A brand new coupon can now be accessed and printed through our SmartCanucks SmartSource printable coupon portal. Save $1.50 on the purchase of any Campbell's Healthy Request soup in the 540ml can. I am fairly sure this soup goes on sale for around $2 a can, making this a high value coupon when combined with the right sale.
I am not sure of the expiry, so if you do print the coupon, please let us know how long it is good for in the comments! To locate the coupon through the portal, click the link below, then select "Healthy Request Soup" from the brand drop down menu. When you select "Go" you will see the coupon at the top of the page. This is a SmartSource coupon so you will be able to print the usual number of coupons, which is two per computer.
Click here to get your coupon for $1.50 off the purchase of Campbell's Healthy Request Soup.