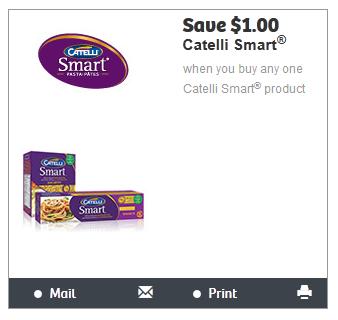 Mail to home coupons available through WebSaver.ca are now very rare outside of their VIP mailing. Here is one that has been available for a while, and if you have ordered it in the past, you should be able to order it again. Save $1 on the purchase of any one Catelli Smart pasta product. This coupon makes for a definitely freebie as the pasta is very often on sale for just $1.
There are a couple of issues with ordering the coupon however. The first is that is appears to be working only in Firefox, so if you are using Google Chrome or Internet Explorer, just a heads up that it may not work. Also, ordering mail to home coupons from WebSaver does not work if you are trying to do so from your phone. Make sure you are ordering from your desktop or laptop computer or you may have issues.
Click here to order your mail to home coupon for $1 off the purchase of Catelli Smart Pasta through WebSaver.ca.