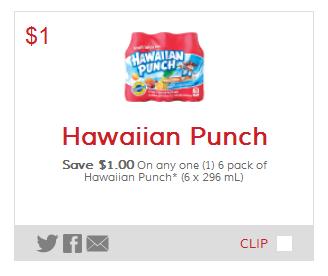 Another new coupon is available through our SmartCanucks SmartSource printable coupon portal, but unlike the Green Giant coupon, this one is also available to residents of Ontario. Save $1 on the purchase of one 6 pack of Hawaiian Punch (6x 296ml) with this new coupon.
This coupon, which you can locate by selecting "Hawaiian Punch" from the brand drop down menu, is available to Western Canada and Ontario, but more specifically, British Columbia and Alberta. Thank you to our forum member Natalka for letting us know the terms of the coupon!
Once again, these SmartSource printable have a limit of two prints per coupon, and also, the expiry is typically about one month from the date they are printed. In some cases certain coupons do have a much longer expiry.
Click here to get your coupon for $1 off the purchase of any one Hawaiian Punch 6 pack.