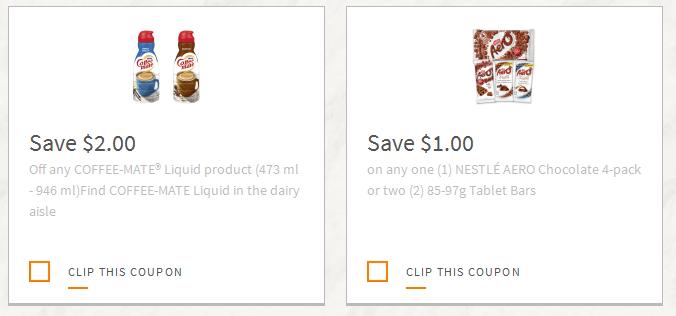 I don't know about you, but I am loving the MyNestle printable coupon portal, and another couple of reasons to love it have just been added! Head over to the portal by clicking the link below, where you can now print the following coupons:
Save $2 on the purchase of any Coffee-Mate Liquid product (473ml – 946ml)
Save $1 on the purchase of any one Nestle Aero Chocolate Bar 4 pack or tw0 85-97 tablet bars
A couple of terrific coupons! You must be registered and sign in to your account to print the coupons. You can print two coupons per account. If you haven't signed up yet take a moment to make an account as great coupons tend to keep popping up here.
The Nestle Drumstick Minis $2 coupon and the Delissio Rustico $1 coupon are also still available if you haven't printed those off yet.
Click here to get your coupons through the MyNestle coupon portal.