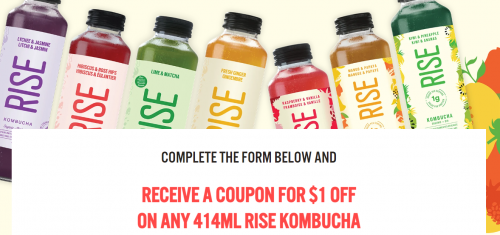 A new printable coupon is currently available for Rise Kombucha! Save $1 on the purchase of any 414ml Rise Kombucha with the printable coupon that you will find below.
This is a printable coupon, and you will be sent the coupon by email when you complete the form. The coupon that you will receive is valid until February the 28th, 2023. The coupon looks as though it has a unique code on it, so you will have to use separate emails for more prints of this one.
To give you a general idea of the regular price of these, they are $3.97 each at Walmart Canada, or you can buy two for $7.
Click here to get your coupon for $1 off the purchase of Rise Kombucha.