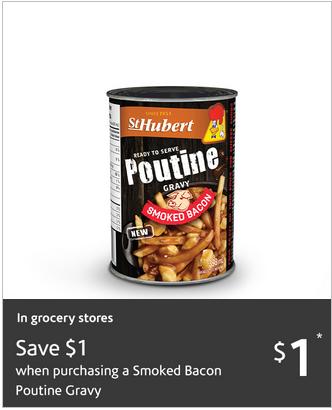 The addition of bacon to most items is not usually bad thing, and here is an example of such an item, from St. Hubert. They have a new product, which is ready to serve Poutine Gravy, with the addition of smoked bacon, and they also have a new coupon for $1 off the purchase of this Smoked Bacon Poutine Gravy so you can try it out and save a bit of money.
Although I'm not sure what the regular price of this product is, I'm fairly sure the coupon would make it half price or less. The coupon is valid until December the 31st, 2016, and can be printed multiple times. You may want to print a few off and pick up a tin, or two, or ten. In any case it's definitely worth a try if you are a bacon lover.
Click here to print your coupon for $1 off the purchase of St. Hubert Smoked Bacon Poutine Gravy.