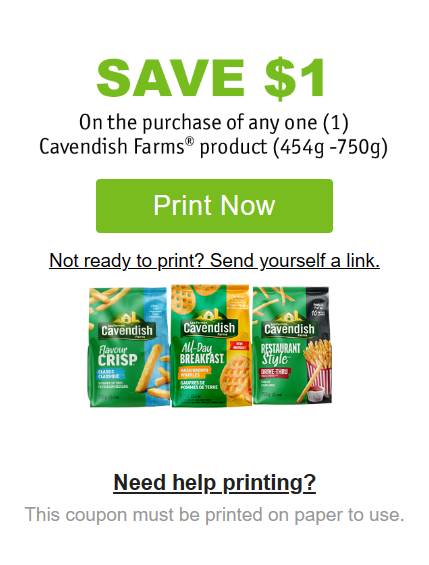 A new coupon is now available for Cavendish Farms products. Save $1 on the purchase of any Cavendish Farms product 454g-750g with the printable coupon that you can find through the link below.
You are able to get two prints per browser for this coupon, and these types of coupons will sometimes ask you for a verification code by text. The expiry date of these will depend on when they are printed.
The Cavendish Premium Fries are advertised at No Frills Ontario this week for $2.88, and these range in size from 540-750g. Using the printable coupon these are $1.88. The All-Day Hash Browns 652/650g or Patties 600g are also $2.88 and you are able to use the coupon on these as well. Shoppers Drug Mart will have the Kettle Style Potato Wedges for $3.29 all week, beginning tomorrow.
Click here to get your coupon for $1 off the purchase of any Cavendish Farms product.