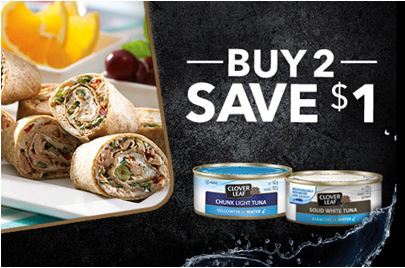 Save $1 when you purchase two Clover Leaf All Natural products when you print and use this hidden SmartSource Canada printable coupon.
The coupon is valid on either Clover Leaf White Albacore Tuna 170g or Yellowfin Tuna 142g, and the coupon will be valid for approximately one month from the time of printing.
SmartSource printable have a limit of two prints per browser. So, if you were to open the coupon through the link below in say, Chrome, you would then be able to print it twice. If you were to then open the link again using Firefox, or any browser aside from Chrome, you would be able to get another two prints, and so on. Given that the coupon is only valid for about 30 days though, you might not want to print that many unless you find a great sale price.
Click here to get your coupon for $1 off the purchase of two Clover Leaf All Natural products.