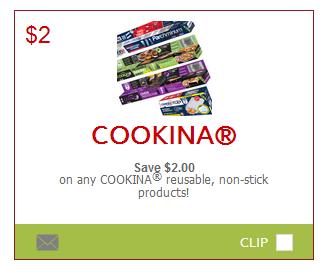 Our SmartCanucks SmartSource printable coupon portal has a new coupon for you to print if you so wish. Save $2 on the purchase of Cookina reusable, non-stick products, with this new coupon.
You may also have a cash back offer on one of your apps, but i will warn you that even with that offer and this coupon, you will still be paying a fair amount as this is by no means a high value coupon. Just checking the Walmart Canada website, you will see that these products start at $9.97 the Gard Oven Protector, Parchminum Pacs and Paper, and Reusable Baking Sheets. The Barbeque Reusable Grilling Sheet is $12.97.
You can print two of the coupon per computer, more by using multiple browsers if you are able.
Click here to print your coupon for Cookina products through the SmartCanucks SmartSource printable coupon portal.