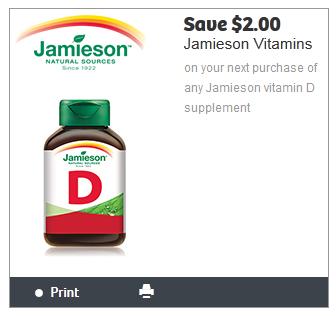 There is a Jamieson coupon portal with printable coupons available through Websaver, and today a new printable coupon has been added to this portal. Save $2 on your next purchase of any Jamieson vitamin D supplements. The vitamin D supplements are not a very pricey product, so the $2 coupon does provide a substantial amount of savings if this is an item you do purchase, so it would be well worth the ink to print.
To print the coupon you must sign in to your WebSaver account. The printing limits for WebSaver coupons are one per account. However, you may print one for each account, with no limit on prints per computer. Just a reminder though that WebSaver accounts themselves are meant to be one per household.
Click here to get your coupon for $2 off any Jamieson Vitamin D supplement through WebSaver.