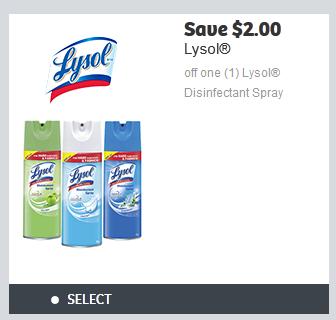 A new coupon has recently been added to the Websaver.ca printable coupon portal. Save $2 on any one Lysol Disinfectant Spray with this coupon, which is a high value coupon when you consider you can often get these products on sale for $2.99. If you find such a sale, you will pay only 99 cents per Lysol spray.
Websaver printable coupons have a limit of one print per account, so you are usually able to print one for each member of your household. If you would prefer not to print the coupon, we may get lucky and find this included in the next Websaver VIP mail to home coupon envelope. We let let you when they announce that a new one will be coming so that you are able to sign up for it!
The coupon for $2 off when you purchase two Lysol products is also still available through this portal if you require Lysol products other than the spray.
Click here to get your coupon for $2 off the purchase of Lysol Disinfectant Spray through the Websaver coupon portal.