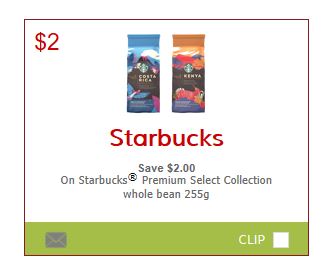 The SmartCanucks SmartSource printable coupon portal has a newly added coupon. Save $2 on the purchase of any Starbucks Premium Select Collection whole bean coffee 255g. To print your coupon you can click the link below to visit our portal, where you will find it is the first coupon shown.
There is currently a $2 tear pad in many stores for $2 off Starbucks packaged coffee, but if you cannot locate that coupon then you will certainly appreciate this coupon if Starbucks coffee is something you purchase. SmartSource printable do have a limit of two prints per computer, but if you could use more than that, try printing the coupon using different browsers. You should be able to get more prints this way.
Starbucks packages coffee is advertised for $7.98 at Real Canadian Superstore this week. Use the coupon there and pay just $5.98 per package of Starbucks Premium Select Collection coffee.
Click here to print your coupon through the SmartSource SmartCanucks printable coupon portal.