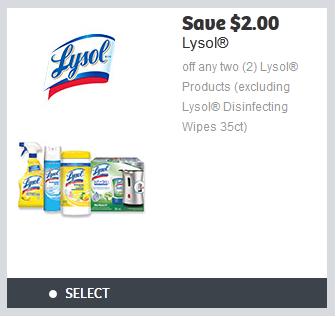 A brand new coupon is available through WebSaver.ca, and it's actually a coupon has been available in the past. Save $2 on the purchase of any two Lysol products with this coupon, which is only available in a printable format.
The only exclusion that this coupon has is that it is not valid on the 35 count Lysol Disinfecting products. All other Lysol products do qualify for the offer. Don't forget that it is valid on the Lysol No Touch hand soap dispenser, so in case another mail in rebate pops up for that item, you could use this coupon if you purchase another item in addition to the dispenser, and save a couple of dollars along with the rebate.
WebSaver.ca printable coupons are limited to one print of each coupon per account, and there are currently many coupons available to be printed, so if you are new to WebSaver, be sure to take a good look!
Click here to print your coupon for $2 off the purchase of two Lysol products through WebSaver.ca.