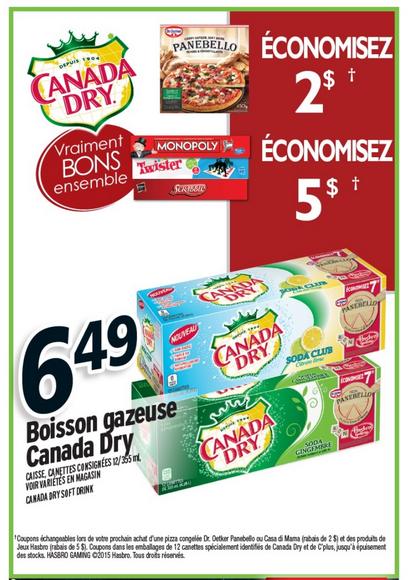 Here are some new coupons found on packaging that you may want to watch for while you are shopping. I spotted these specially marked cases of Canada Dry and C Plus last week at Shoppers Drug Mart, but didn't have any specifics about the coupons inside. So, in case you were wondering, here are some details.
Inside specially marked 12 pack cases of Canada Dry or C Plus beverages, as shown in the picture above, there are a couple of very awesome coupons. Totaling $7, the fist coupon is for $5 off the purchase of a Hasbro game, and the second coupon is for $2 off the purchase of Dr. Oetker Casa Di Mama or Panebello frozen pizzas. We sometimes see Hasbro games on sale for $10, so you could manage to get a Hasbro game for just $5 with the coupon, and if nothing else, Hasbro Games make great gifts for kids even if you had no personal use for the coupon. It is almost worth buying the pop for the pizza coupon alone if you purchase frozen pizzas, as the Dr. Oetker pizza are often on sale, sometimes for as low as $3.33, or $2.99.
The picture shows the advertised price of the pop in the Metro Quebec flyer this week, but you can pick up a case of pop for much less just about anywhere, including Shoppers Drug Mart Canada, where it is often under $4.