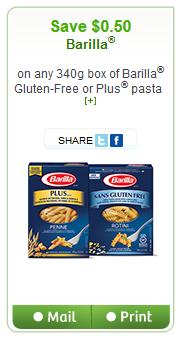 It has been quite some time since a new coupon has been added to webSaver.ca, but finally this morning there is in fact a new coupon available. Save 50 cents on the purchase of any 340 gram box if Barilla Gluten-Free pasta, or Plus pasta. This coupon is available in a print version, or you can choose to have it mailed to you, which I know many of you, and myself, prefer. If you do print the coupon there remains a limit of one coupon per account.
The Gluten-Free and Plus varieties are typically a higher price point than the regular Barilla, so not a high value coupon by any means, but you may be able to find a decent sale price on the pasta.
Click here to get your coupon for 50 cents off the purchase of Barilla Gluten-Free or Plus pasta through webSaver.ca.