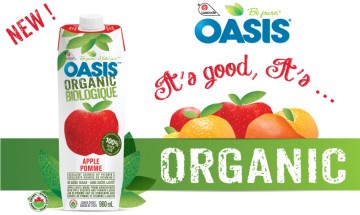 A new coupon has become available through GoCoupons.ca! Save 75 cents on the purchase of Oasis Organic juice with this coupon which is a mail to home coupon. This juice comes in a 960ml format, and is available in three flavours: Apple, Pure Breakfast Orange, and Mango-Orange. This is a shelf stable juice, available in the non-refrigerated juice section of your grocery store.
There is another coupon for Oasis juice still available from GoCoupons.ca for $1 off any Oasis refrigerated juice in the 1.75L format. If you have not yet ordered it make sure to grab that one as well. If you have previously ordered the coupon, you may be able to re-order it.
Click here to get your coupon for Oasis Organic juice through GoCoupons.ca.