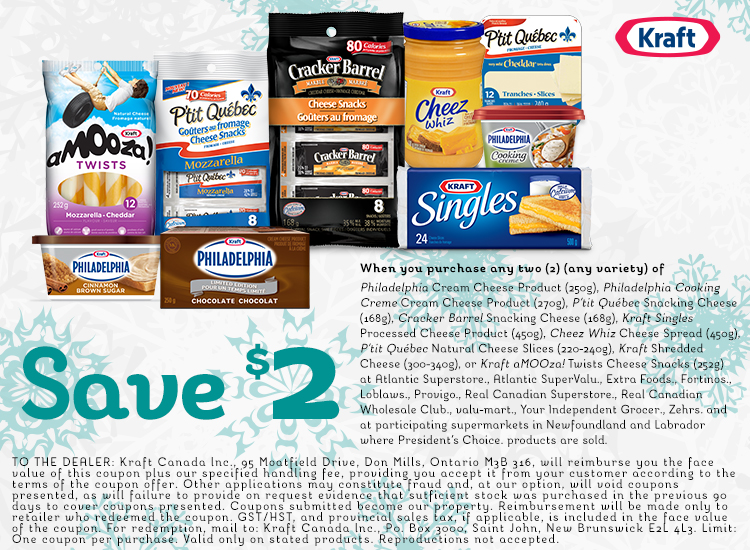 Save.ca has two great new coupons available, valid on a wide variety of Kraft Cheeses! The first is for $2 off when you purchase two of the following products: Philadelphia Cream Cheese, Philadelphia Cooking Creme, P'tit Quebec Snacking Cheese, Cracker Barrel Snacking Cheese, Kraft Singles, Cheez Wiz, P'tit Quebec Natural Cheese, Kraft Shredded Cheese, or aMOOza Twists.
The second coupon is for $3 off the purchase of any two of the following Kraft cheese products: Cracker Barrel Block Cheese, P'tit Quebec Block Cheese, Kraft 100% Parmesan Grated Cheese, Kraft Extra Cheddar Processed Cheese, MacLaren's Imperial Cold Pack Cheese, or Velveeta Processed Cheese.
One important thing to note about these coupon is that they are only valid at Atlantic Superstore, Atlantic Supervalu, Extra Foods, Fortinos, Loblaws, Provigo, Real Canadian Superstore, Real Canadian Wholesale Club, valu-mart, You Independent Grocer, Zehrs, and participating supermarkets in Newfoundland and Labrador where President's Choice products are sold.
These coupons can be ordered by mail through your Save.ca account. Click here to get them before they disappear!