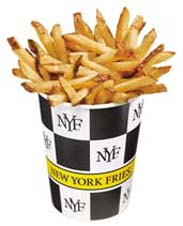 If you are planning on buying someone a gift certificate for Christmas maybe consider one from New York Fries.  For every $10 in gift certificates purchased you will receive a coupon for FREE regular fries.  If you are not buying gift certificates for anyone else you could always buy the gift certificates and use them yourself and still claim the FREE fries.  Check with your NYF location to see if they are running this deal.  Not all NYF locations may be participating.
Gift certificates are valid January 1st to March 31st 2012.
Visit New York Fries website here.