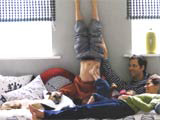 The infamous dog photo in the IKEA 2007 Catalogue wasn't tampered with according to IKEA. CTV.ca has a large copy of this photo. If you have no idea what I'm talking about read the following article:
You can read the full story and view the photo on CTV.ca here.
You can also order a free copy of IKEA's 2007 catalogue here although I'm pretty sure they've changed the catalogue by now so don't expect any dog photos.