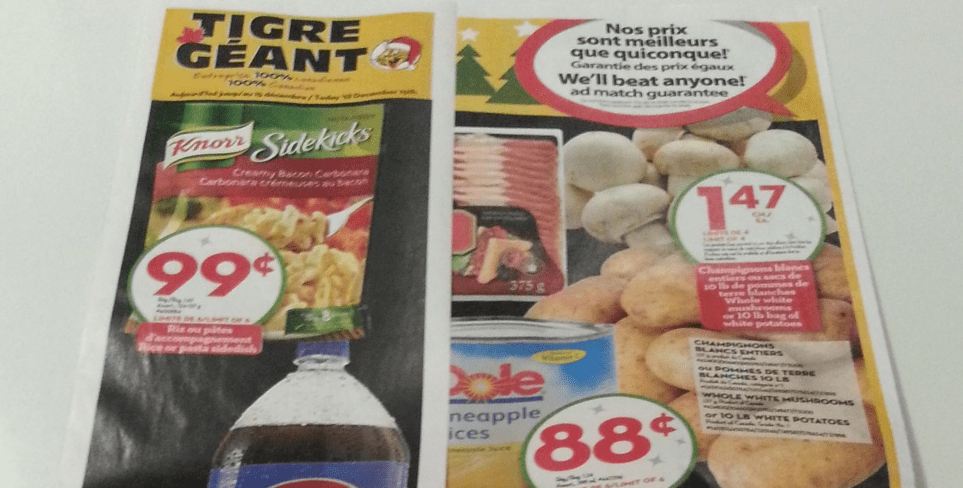 While many of the Quebec flyers sneak peeks are valid only for stores in Quebec, Giant Tiger and Canadian Tire are usually very similar across the country.  We have sneak peeks of both of these flyers from Tioma for you.  So get started on those shopping lists as some items will be cheaper next week and you never want to pay more!
Giant Tiger flyer sneak peek (starts December 9th)
Knorr Sidekicks $0.99
2L Pepsi $1
Maple Leaf bacon $3.97
Glad Cling Wrap 30′ or Alcan foil 25m $0.98
Post cereals $2.97
Heavy Duty AA batteries 48pk $6.97
Plus deals on toys, clothing, winter accessories and more.
Canadian Tire flyer sneak peek (starts December 11th)
Shop on Friday and earn 20x e-CT Money with no minimum spend requirement.  If you have a Canadian Tire credit card, you will receive your bonus money for a total of 30x e-CT Money.  20x e-CT Money is around 8% back in Canadian Tire money, but you must have an e-CT account, they will not give bonuses on paper money.
Canadian Tire will have a huge Merry Madness sale with up to 50% off on a variety of products, so definitely worth a browse this weekend.  Flyer deals include
Silicone bakeware 70% off
Buy 3 Tim Hortons products and get a $10 Tim Card
50% off NOMA extension cords
Shark vacuums 50% off
The Canadian Tire toy of the week seems to be a cardboard playhouse with windows and doors for $19.99.