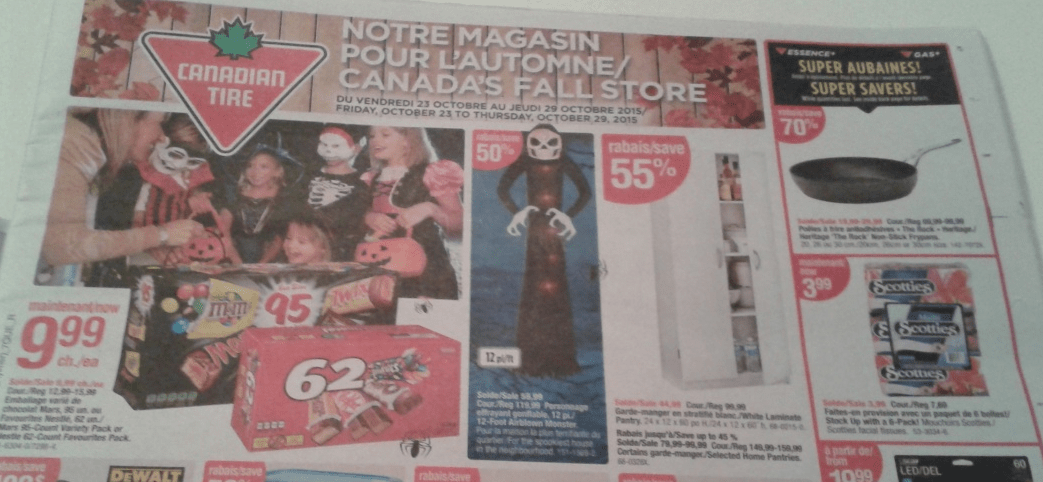 While many of the Quebec flyers are valid only for stores there, some of them are very similar across the country and we have two of these flyer sneak peeks for you.
Canadian Tire flyer sneak peek
Not the most exciting flyer, with no major promotion but they are offering 50x e-CT Money on select drinking glasses, halogen bulbs, EnergieCardio trampoline, Gardenia tools and utility ropes.
Halloween candy 62-95s $9.99
The usual up to 70% off various cookware including TFal
50% off Anchor food storage containers
Select cleaning and household supplies at $2 including Palmolive dish soap
Old Dutch laundry detergent $3
Nestle Halloween minis 90s $8.97 +  lots more candy deals
Buy Windex at $3.97 and get a free 2 pack of Royale Tiger Towels
Giant Value frozen vegetables $.23 (half price)
Select Kelloggs cereals $2.77
Clover Leaf tuna $1
As always, prices may differ, so make sure you check your local flyer before shopping.