Breyers Classic Ice Cream is on sale for $2.77 (regular price about $4.50) in this week's A&P and Dominion flyers.
Note that the Ice cream on sale is the Breyers Classic not the Breyers Natural Ice Cream.
The classic comes in the following flavours (but don't expect to find them all at your local A&P or Dominion):
Neapolitan – new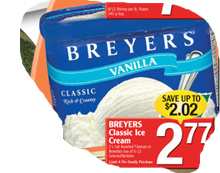 French Vanilla
Vanilla
Cookies & Cream
Heavenly Hash
Pralines & Cream
Chocolate
Chocolate light
Butterscotch Ripple
Mint Chocolatey Chip
Creamsicle Swirl
Strawberry Shortcake Swirl
Fudgsicle Fury
Maple Walnut
Maple Sugar Crunch
Vanilla Light
I personally find that Breyers light chocolate doesn't taste as good as the regular chocolate Ice Cream. Yet, I noticed that while their light Ice cream has less fat it still has almost the same amount of calories.
Click here to read this week's full A&P or Dominion grocery flyers.