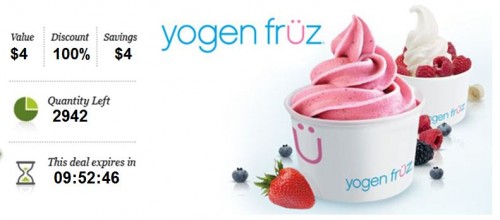 Bright and early this morning Janetta used the Suggest A Deal Form to let me know about this great deal from Fab Find! I just had a chance to sit down and type this up, back to school is a busy time for me right now.
Anyways theres about 2900 of these free yogurt coupons Left. They are redeemable at 25 Toronto Yogen Fruz locations. There is only 9 hours left to claim your free certificate.
•Limit 1 per customer
•Must present ID with certificate at time of redemption
•Offer expires October 8, 2010
Click here to claim your free frozen yogurt.
Thanks again Janetta.