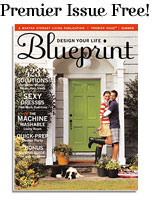 … Yes! you can get a free issue of Blueprint. Blueprint (Martha Stewart) is a "new magazine with timeless and easy beauty tips for your home, your wardrobe, your life". Blueprint team are offering a free preview of their premier issue.
You don't need a credit card to subscribe but you'll need to phone/email to cancel the subscription after you receive your free issue, to avoid getting annoying bills.
You can get your free issue here.