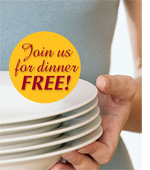 Fill out the form here and you'll receive a free limited-edition mini magazine full of menus, recipes and more. You'll also get a DVD full of line cooking demonstrations.
In the drop down menu where it says United States, if you scroll to the bottom you'll find Canada too.
Click here to fill out the form.