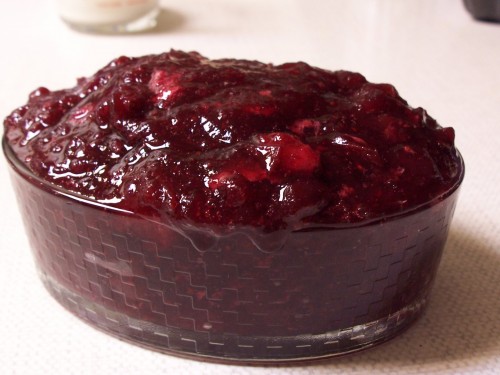 It's back!!!  Ocean Spray has posted another one of their $1.00 off coupons good on any Ocean Spray Product.  This comes just in time for thanksgiving.  You can buy yourself a can of Jellied or Whole Berry Cranberry Sauce for extremely cheap with this coupon.  Or if you are feeling adventurous try making your own cranberry sauce this year.  I assure you that once you have had homemade cranberry sauce you will never go back to cans.  You can use your coupon to buy yourself a bag of fresh Ocean Spray Cranberries and try the easy recipe below.
Homemade Cranberry Sauce
1 bag of fresh cranberries
1 cup of maple syrup (or sugar)
1 cup of water or cranberry juice
a few orange zests if you are feeling creative
Put everything in a small pot and bring to a boil until you can hear the cranberries popping.  Then reduce temperature so the sauce is simmering and cook for about 20-30 minutes until the cranberries have all broken down and the sauce has thickened.   This sauce will last months in the fridge so you can make it in advance now.
If you are able to coupon stack at London Drugs you can also use this coupon in combination with the many other Ocean Spray Coupons that are floating around out there such as 0.75 off Ocean Spray Juice, $1.00 off 1 bag of Craisins or Buy 2 save $3.00 off Ruby Red Grapefruit Juice.
Click here to print out your $1.00 off any Ocean Spray Product Coupon now.
**thank you Melody113**