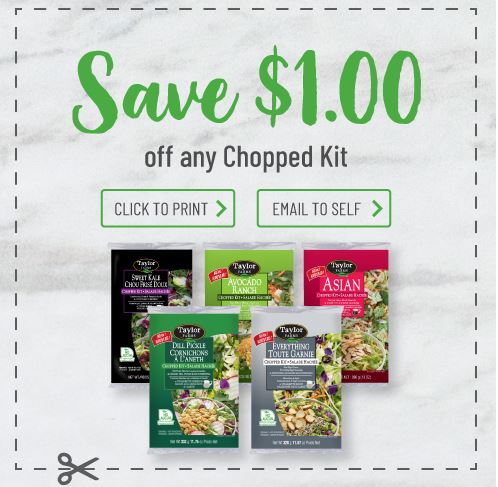 Taylor Farms has a new printable coupon for Canadians available on their website. You can visit their website through the link below where you will find a coupon for $1 off the purchase of any Taylor Farms Chopped Kit.
You will have to scroll through the first couple of coupons as they are not for Canadians. You will find the Canadian coupon farther down the page. Some of you may have recently tried the Taylor Farms dill pickle salad from Costco, and of course you cannot use the coupon there, but you could use it elsewhere.
Taylor Farms products are sold at most Loblaws chains, including some Shoppers Drug Mart locations according to the store finder. If you are looking for an advertised sale price this week, Fortinos Ontario has them in their flyer for $4.49, making them $3.49 with the coupon.
Click here to print your coupon for $1 off the purchase of Taylor Farms Chopped Kits.