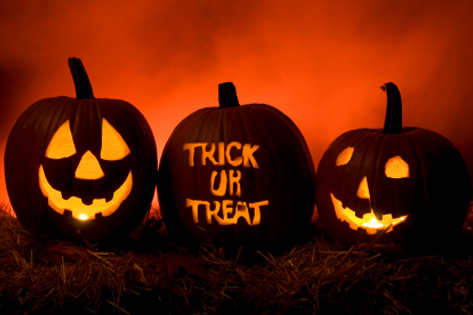 It is the day before Halloween and the stores are jam-packed with last minute shoppers.  People are running about trying to find more candy, the all-important pumpkin or "one more thing" for their child's costume.  The till tape is flying as stores try to push out the last of their Halloween merchandise. 
However, behind the scenes retailers are also preparing for an onslaught of trick or treaters.  Yes, it seems the mall has become the go-to destination for little ones to collect their candy.  And why not?  A mall is safe, well lit, entertaining and most importantly, WARM.  Families can pull into underground parking, enjoy a hot beverage from the food court and casually stroll through the mall while their kids get free treats.  A nice, safe way to spend Halloween.
On the flip side, there are the traditional trick or treaters who go door-to-door.  They stuff their costumes over a snowsuit, hope their mask will keep their faces warm and grab a pillowcase.  Parents follow carefully behind them in the van as they run feverishly around the neighbourhood hoping for the "big score".  They are chilled and exhausted but hardly skip a beat as the adrenaline courses through their veins.  These trick or treaters will collect candy well past their bedtime and return home smiling from ear to ear. 
Finally, there are the "party" trick or treaters.  They skip the mall and the great outdoors in favour of a small gathering of friends and relatives.  A small bucket is used to collect treats won through games and haunted houses.  These children experience a more intimate affair that makes Halloween a little more personal.
All three options are fantastic ways to spend Halloween.  Each offer a different experience and yet, the outcome is the same: CANDY FOR EVERYONE!
Where do your children go trick or treating?  Let us know!
Smart Canucks wishes all of your children a safe and happy Halloween 2012.