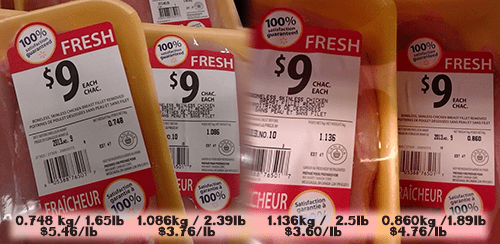 I don't buy meat at Walmart often, but yesterday while shopping, I needed to pick up some chicken breasts and did not want to go to our usual store after Walmart, nor carry chicken around for an hour in Walmart.  I know there is always a difference in weights, but the difference really surprised me with these $9 packs with roughly 5 chicken breasts per pack.  This is just a few of them but shows the lowest and highest weights I could find, a difference of 388g, a bit under 1lb.
1.65lb @ $5.46/lb
1.89lb @ $4.76/lb
2.39lb @ $3.76/lb
2.5lb @ $3.60/lb
Fortinos, my local grocery store, has chicken breasts at $3.99/lb this week so by buying the largest pack, I did save some money.   The number of packs with under 900g/2lbs far outweighed the heavier packs however and most people would end up paying far more (a lot more with these weights).
Do you buy meat priced per pack, do you also dig through the display looking for the best deal?