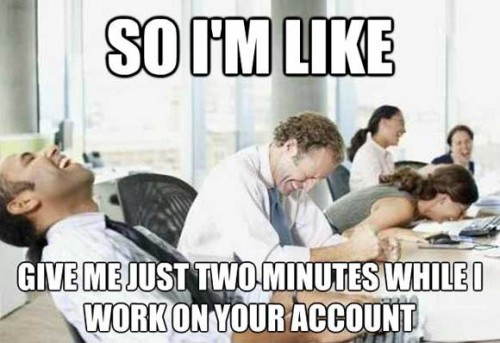 Andrew Gardner, annoyed by mailings from Shoppers Drug Mart addressed to someone else, sent an email asking for the address to be removed including this
Naturally, I can draw one of two conclusions from this: 1) that Matthew is a previous resident of this address … Or 2), and I may be going out on a limb here, Matthew is a future resident of this address, and seemingly against the laws of causation, your computer system has this information and prematurely mailed an advertisement to him before he's actually lived here.
What Gardner received back was not your standard Shoppers Drug Mart reply from Mark Oliver, a customer service agent:
Thank you for writing us.
We apologize if you have been receiving mail from Shoppers Drug Mart that was addressed to another customer. Unfortunately, we cannot comment on any research projects that we may currently be conducting.
However, we would appreciate it if you could provide us with some additional information that would help us determine when the mailer you received was sent. Could you please let us know if it contained any of the following advertisements?
1) Now at Shoppers Drug Mart: Everexis
Cure any disease instantly with Everexis! Great for headaches, colds, cancer and more! With no known side effects, nothing can possibly go wrong!
2) 20X The Points on Meat Products
Got the Everexis munchies? Fill your strange and unspeakable hunger and get 20X The Points!
3) 20% Off Everexis Antidote
Everexis left you slow, lumbering, and quick to anger? Take the Everexis antidote. It hasn't been fully tested, but it certainly can't make things any worse!
4) Hide in a Shoppers Drug Mart Refugee Shelter
With over 1,200 locations still standing across Canada, Shoppers Drug Mart is the ideal place to hold up and hide from the hoard. Ration Nativa Cheese Puffs and Life Brand Vitamins while you wait for rescue! Blood samples will be required for admittance.
5) Wheat, Glorious Wheat
Exclusively at Shoppers Drug Mart! Rebuild society with wheat, a traditional nonsynthetic foodstuff from the before-times. Act fast, as quantities are extremely limited.
Personally, I love it.  You could tell from the original email that the person had a sense of humour but I can think of some of our clients at work who would call my boss if we ever sent them an email like this (oh and please note SDM, next time I have an issue, I will be asking for Mark Oliver to take care of my issue so I am so happy to hear he will not be fired).
So what do you think? Would you laugh on receiving an email like this or think they were not taking your complaint seriously?