My son's 3rd bday is less then a month away so I've been browsing toys online. Look what I found! Just what I've always wanted. A kissing disease microbe plush doll!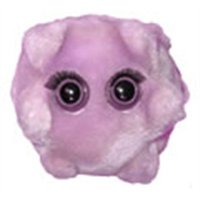 Yes, this furry little diseased microbe can be yours for the cheap price of $9.95!  Also available are his pals: The Flu, Penicillin, and Common Cold! Think I'm kidding? Click here.
All joking aside Chapters does have some kids stuff on sale such as puzzles up to 30% off, and clearance toys up to 50% off.  Click here to check out the sales
Need a sweeter deal? Use Smart Canucks Canadian Cashback and get yourself an extra 4% back!  Click here to sign up!