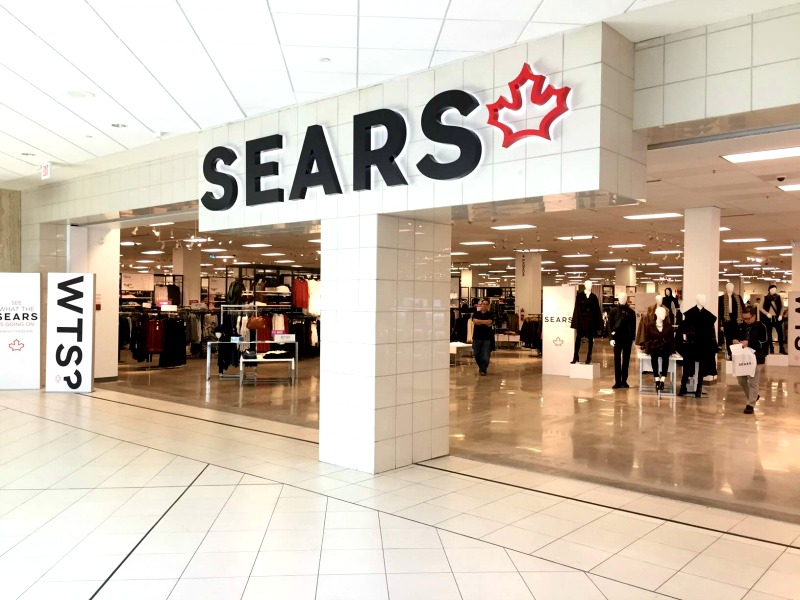 Sears has announced a restructuring plan as they attempt to stay in business while filing or creditor protection.  Sears will cut around 2900 jobs including 500 office positions.  They will be closing 59 stores and will have liquidation sales at those stores.  Store closings include regular Sears department stores as well as Sears Home and Sears Outlet stores.
Sears Stores Closing
Medicine Hat, AB
Grande Prairie, AB
Lloydminster, AB
Red Deer Relocation, AB
Kamloops Aberdeen Mall, BC
Bathurst, NB.
Saint John, NB
Corner Brook, NL
Truro Mall, NS
Dartmouth, NS
Brockville, ON
Sault Ste. Marie, ON
Hull, QC
Chicoutimi, QC
St. Georges de Beauce, QC
Alma, QC
Drummondville, QC
Regina, SK
Moose Jaw, SK
Prince Albert, SK
Sears Hometown Stores Closing

Cold Lake, AB
St. Albert, AB
Okotoks, AB
Spruce Grove, AB
Ft. McMurray, AB
Leduc, AB
Sherwood Park, AB
Creston, BC
Sechelt, BC
Grand Forks, BC
Orangeville, ON
Rimouski, QC
Rouyn-Noranda, QC
Melville, SK
Sears Outlet Stores Closing
Abbotsford Retail, BC
Winnipeg Garden City, MB
Halifax Outlet, NS
Cornwall, ON
Chatham, ON
Cambridge, ON
Timmins, ON
St. Eustache, QC
Montreal Place Vertu, QC
Sorel, QC
Sears Home Stores Closing
Calgary, AB
Edmonton Skyview, AB
Ancaster, ON
Woodbridge, ON
London, ON
Scarborough, ON
Kingston, ON
Ottawa East, ON
Sudbury, ON
Windsor, ON
Orillia, ON
St. Bruno, QC
Laval, QC
Quebec City, QC
Ste. Foy, QC
It seems that Alberta will lose quite a few stores while Ontario loses the bulk of the Sears Home stores closing.  The timing of store closures will depend on the locations so best to check with them for updates.  Online sales from Sears.ca will continue and they will be honouring any returns/warranties in the mean time.  If you have an item you need to return, I would do it soon though!
When was the last time you actually shopped at Sears?