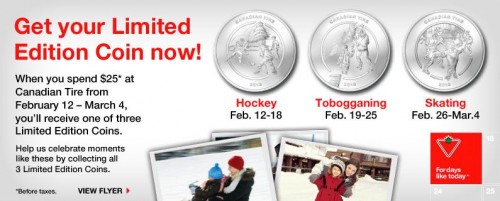 Canadian Tire is in the second week of offiering the exclusive collector coin. This weeks coin depicts tobogganing and next weeks is skating. Missed last weeks hockey coin? Ask your cashier if theres any left from last week. Ours still had some.
What do you have to do to receive the coin? Spend $25 or more before taxes and receive it free!
On a side note have you noticed that the Canadian Tire flyer now starts on Fridays? About a year ago a cashier told us it was going to Friday, but after a year we decided maybe it wasn't true. It kind of sucked for me though because I went in last night to get some stuff that I thought was ending Friday.. ya that didn't happen.
Click here to view this weeks flyer online.