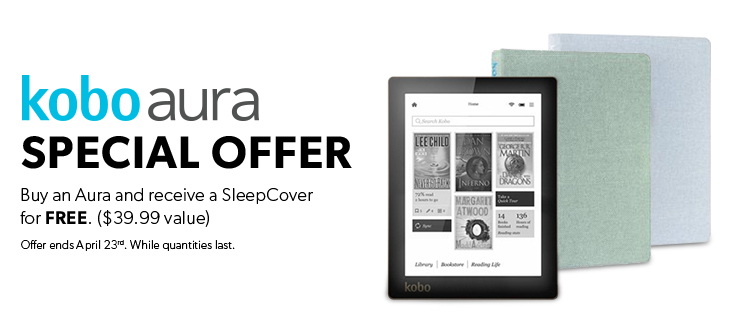 Chapters Indigo Canada seems to find a deal for everyone within their weekly offers, no matter what your interests and price points may be, they more than likely have something just for you.
The first offer that pricked my interest was the offer of receiving a free SleepCover – which has a value of $40 – with the purchase of a Kobo Aura ($129.99). Chapters will be making this deal accessible to both online and in-store shoppers, just be advised that you must add both items to your cart receive the SleepCover for free. You will get the choice between four different colours for your SleepCover, and you should also note that Chapters is currently selling the Kobo Aura for just $129.99, which is less than what Best Buy is selling theirs for ($138) and they won't be including a complimentary SleepCover.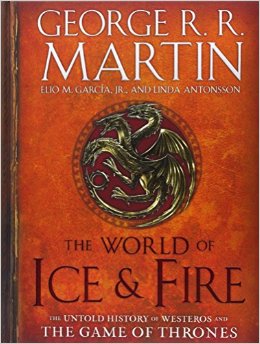 A deal that seemed to be particularly relevant, especially with this past Sunday night being the premiere of season five of HBO's Game of Thrones television series, was the 40% sale on George R.R. Martin's The World of Ice & Fire: The Untold History of Westeros and The Game of Thrones. This book gives a (undoubtedly, highly necessary) prologue to George R.R. Martin's book series, A Song of Ice and Fire, and is an excellent companion for anyone who has just begun watching the show and is trying to get caught up for season 5. The book was originally being sold for $58, and is currently on sale for just $33.06; this sale price will only be available until April 20th.

There are more deals going on this week at Chapters Indigo, that all have varying expiry dates, so you should make sure to double check the dates in case you were planning to wait a few days on purchasing one of the deals. These weekly deals include:
$30 off on Jawbone UP Wristbands, now $60, expires on April 30th
10% off on Beats Powerbeats 2 Wireless In-Ear Headphones, now $197.96, expires on April 20th
spend $25 on Sunny Patch toys and receive a FREE umbrella of your choice, expires April 30th
save 40% off on Ronda Rousey's, My Fight/Your Fight, now $20.40, expires April 14th
save 20% off on Calico Critters toys, expires on April 20th
save 40% off on Legend of Zelda: A Link to the Past, now $13.79, expires on April 20th
save 20% off on Harman Kardon Soho Headphones, now $207.96, expires on April 21st
Chapters Indigo Canada offers free-shipping on all orders that are $25 or more.
Click here to begin shopping the weekly deals at Chapters Indigo Canada online.