When you shop at Chapters Indigo Canada, either online or in-store, and buy at least 4 ornaments for your Christmas tree's trimmings, you will receive 30% off on each ornament.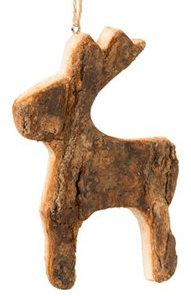 The selection of ornaments to choose from range in prices from $6.50-$24.50, but if you were to get four of the cheapest, like this bark wood reindeer and some accompanying glass deco bulbs, your cart total would only be $18.20. Regularly, those four ornaments would've cost $26, plus tax.

And with all the money you'd be saving on Christmas ornaments at Chapters Indigo, you can certainly justify splurging on one of their full-priced items, especially with this 15% off savings coupon. The coupon is valid both in-store and online, but if you choose to redeem it online you must enter the promo code, JOYFUL, at checkout.
Chapters is only offering this 15% off coupon until November 12th, and if you're wanting to redeem this discount on books, you can only do so in-store as online books are not included in this offer.
Click here to get your 15% off coupon from Chapters Indigo
and here to shop the 30% off ornaments deal.