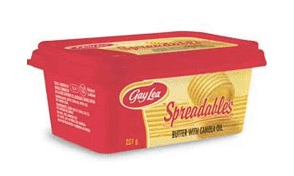 Save.ca are sending emails to people who received incomplete coupons in the recent GayLea Spreadables FPC promo and therefore may have issues redeeming them.
Thank you for being a valued member of Save.ca. It has recently come to our attention that a mailing issue at the Save.ca printing plant caused you to receive your FREE Gay Lea Spreadable Butter coupon without the barcode. We apologize for any inconvenience or disappointment this error may have caused.
Please note that you will only have received this email if you received a GayLea FPC that did not have a barcode in the bottom right of the coupon.  You will find your unique link to reorder the coupon in this email.  The link only works once so make sure that you are at a computer/phone that works to order on save.ca.
If you received one with no barcode and did not get an email, contact save.ca, each email sent has a unique one time link so it cannot be shared