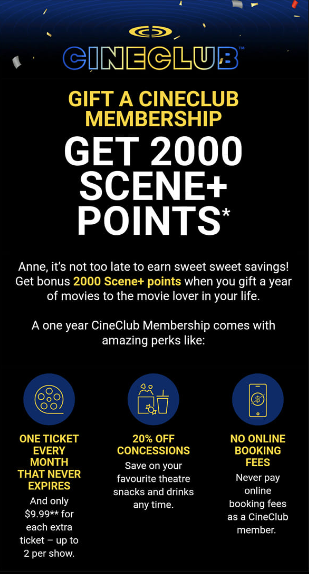 Cineplex Canada has a Black Friday deal this is happening until Monday. If you purchase a one-year CineClub membership, either to gift or for yourself, you will receive 2,000 Scene+ Points, a value of $20.
There are several benefits to a CineClub Membership, and they include one movie ticket every month, and those movie tickets never expire, which is something I didn't know until just now, so maybe you've just learned something new as well. You also get 20% off your movie theatre concessions and you will not pay those new online booking fees. You will earn Scene+ Points when you redeem your free movie ticket and on all CineClub-priced ticket purchases. Members also get 20% off gaming at The Rec Room and Playdium, and 10% off all purchases and rentals on the Cineplex Store.
A one-year membership for CineClub is $119.88 plus tax, so it would cost you $99.88 after the value of the Scene+ Points that you would earn with this offer.
Click here to get this offer from Cineplex Canada.