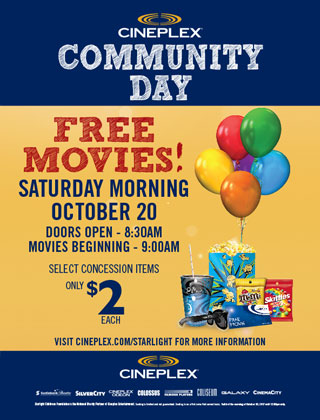 Cineplex is hosting a NATIONAL COMMUNITY DAY on Saturday, October 20, 2012. Doors will open at 8:30 a.m. with free movies beginning at 9:00 a.m.an ending around noon.
Selected concession stand items (regular fountain drink, regular popcorn, select candies and hot dogs) will be on sale for $2 with all proceeds of the event going to Starlight Children's Foundation Canada!
Keep checking their website for information on what movies will be showing at your local Cineplex which will be available soon.  Thanks for letting us know emmkhan.