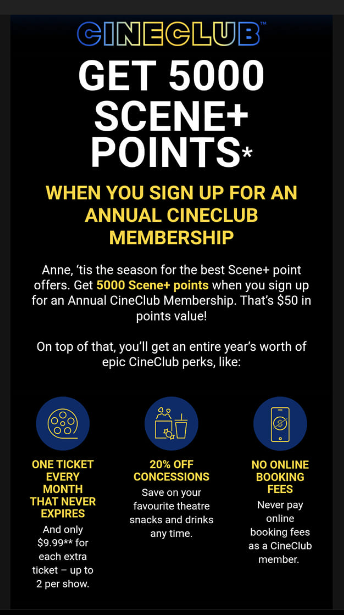 Cineplex Canada has increased their offer of bonus Scene+ Points for some when you sign up for an Annual CineClub Membership. Previously the offer was for 20,000 Scene+ Points, but you might have an offer for 50,000 Scene+ Points for signing up, a value of $50! This offer is specific to the email recipient, so you must have received the email to get the 50,000 points.
The benefits of joining the CineClub include:
one ticket every month that never expires
purchase up to two extra tickets per show for $9.99
20% off concessions
no online booking fees
The cost of the annual membership is $119.88 + tax, and the regular offering of Scene+ Points for this purchase at the moment is 1,500. If you were offered 50,000 Scene+ Points, the cost is $69.98 after the $50 value of the points is factored in. For 12 movie tickets that don't expire, you would be paying just $5.83 per ticket, which is a great deal!
Check your emails for this offer and click here for more information about the CineClub.