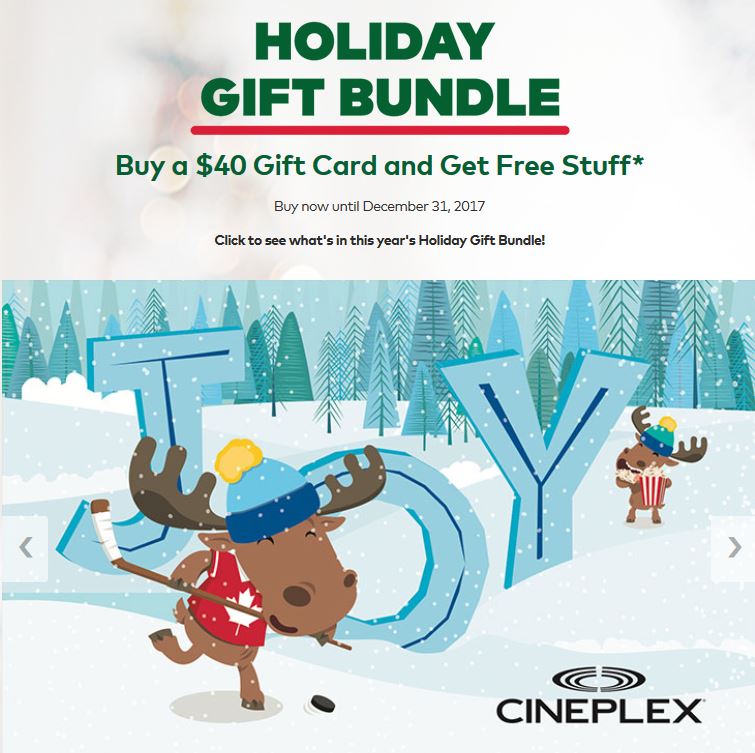 The coupon bundle when you buy a gift card from Cineplex for the holidays is back for 2017.  For every $40 spent on Cineplex gift cards, you will receive a coupon booklet while supplies last.  Coupons are valid starting January 8th and expire on March 8th.  If you buy an online gift card, you will receive an e-bundle of coupons rather than a physical coupon booklet.  There are some restrictions to the coupons so check them before using.
Buy One Get One Free General Admission

Valid from January 8 – March 8, 2018 (Sunday-Thursday only) – Redeem online or in theatre
Valid for General Admission (14-64)
Valid for films in 3D and films in IMAX®, UltraAVX, Prime Seats, and VIP auditoriums with the payment of the applicable surcharge. Not valid for non-feature film performances, Cineplex Events , Barco Escape, 4DX or D-BOX seating.
One Free Premium Ticket Upgrade

Valid from January 8 – March 8, 2018 (Sunday-Thursday only) – Redeem online or in theatres
Valid for films in 3D and films in IMAX®, UltraAVX, Prime Seats, and VIP auditoriums. Not valid for non-feature film performances, Cineplex Events, Barco Escape, 4DX or D-BOX seating
One Free Regular Popcorn – Redeem in theatre only


Valid from January 8 – March 8, 2018
One $6.99 Wednesday General Admission – Redeem online or in theatres

Valid from January 8 – March 8, 2018 on Wednesdays only
Valid for films in 3D and films in IMAX®, UltraAVX, Prime Seats and VIP auditoriums with the payment of the applicable surcharge. Not valid for non-feature film performances, Cineplex Events, Barco Escape, 4DX or D-BOX seating
100 SCENE Points – Redeem online starting January 8th


Valid from January 8 – March 8, 2018
50% off Any Classic Poutine – Redeem in theatre


Valid from January 8 – March 8, 2018
Redeem at any Cineplex Outtakes location
If not Outtakes is available, this offer is valid for 50% off a Nachos Grande at Concessions