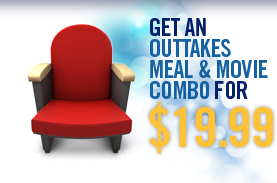 @cineplexmovies
If you're in a rush to catch a movie at a Cineplex Theatre, right now, they have a promo for $19.99 which includes a hot meal from their Outtakes Restaurant (hamburger or hot dog + fries + a drink) and 1000 Scene Points (enough for a free movie).
After I clicked onto the Scene Points promotion's page, it seems as though the $19.99 is just for the 1000 Scene Points. For details, click here and scroll down to "Meal and Movie Combo". Promo is for a limited time offer only.
I have never eaten at Outtakes, so I cannot vouch for the quality. I think this deal would be sweeter if the $19.99 just included a movie ticket…as opposed to Scene Points!