The day is finally here! Toronto's first Cineplex Canada entertainment centre, The Rec Room, has opened at the old Roundhouse Park. The building that the entertainment centre is taking over, previously occupied by Leon's, provides the centre with 40,000 sq ft of freedom to add games, bars, large plasma screens, patios and even a stage for live entertainment.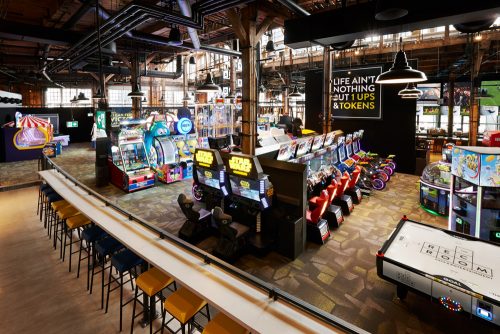 While The Rec Room is being advertised as an 'Eats and Entertainment' experience, the entertainment – in my opinion – seems to outweigh the eats, but only because there's just so much to choose from. Whether you're looking for a futuristic voyage into a VR world, like the Ghostbuster themed quest game called The Void, or are looking for something classic, but nonetheless entertaining, like shuffleboard or ping pong, there's something for everyone at The Rec Room.
The games will work on a credit based system, where you'll pay $10 for 40 credits (each game costs about four to six credits, so budget accordingly). Or, if you'd like a bit more freedom and fun for the night, you can purchase an unlimited bracelet (the credits will be loaded onto a wristband that you will then wave in front of the games to activate for play) for four hours, plus 1,500 redemption credits, for just $50.
After playing all those games for a night you'll most likely have worked up quite an appetite, and the Rec Room does not disappoint in their selection of both big and small bites. There's two restaurants, Three10 and The Shed, that will be serving up unique dishes as well as old arcade room classics like pretzels, popcorn and fried chicken.
Keep an eye on the entertainment schedule, as the Rec Room is sure to be churning out great live shows throughout the year, especially with The Hall, which is a space at the back of the venue where the stage is perfectly sized to accommodate for small, personal concerts.
Click here to learn more about Toronto's Rec Room.