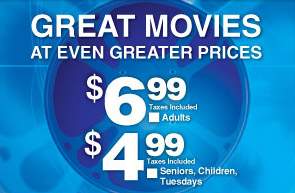 Thanks Tammy for emailing me about this promo.
This is a very well known Cineplex promotion that has been around probably before I was born. Buy Cineplex admission tickets on Tuesdays for $4.99 including tax.
I'm not sure if this price is available at all theatres since I know here in Kingston it used to be $7.95 last year. However I did check the Cineplex website and the $5 is available at a some locations.
Click here to check if the Cineplex Cheap Tuesday is available at your theatre