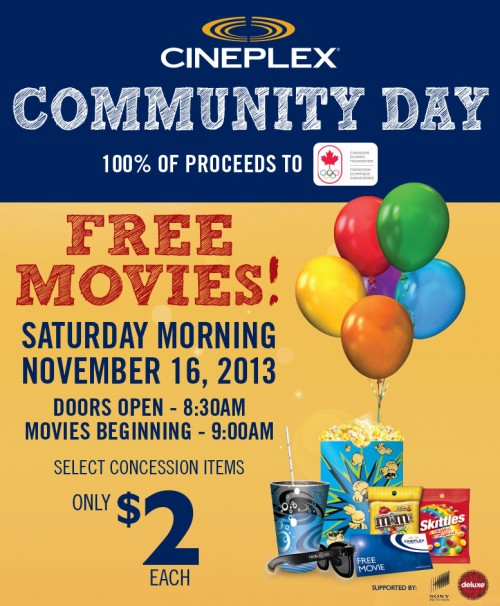 Cineplex is holding their Community Day on Saturday 16 November.  Most Cineplex theatres will open at 8:30 a.m. for a free movie starting from 9 a.m. (some were 10 a.m, last year) Based on the promotion last year, seating for each movie is limited and available on a first come, first served basis (you can't book in advance since it is not ticketed).
Enjoy a regular popcorn, regular fountain drink and selected candy for only $2 each with 100% of the proceeds donated to the Canadian Olympic Foundation.
Movies and show times vary by location, click here to check for local information.They are not in alphabetical order so you may need to search the page to find your local Cineplex (if you had a local Empire, check as some are now Cineplex).
Movies vary by location, but to give you an idea, these are the times/movies at my local Cineplex:
MEN IN BLACK 3 -9:00am
THE PIRATES! BAND OF MISFITS -9:15am
THE SMURFS -9:30am
THE AMAZING SPIDER-MAN -9:45am
HOTEL TRANSYLVANIA (3D) -10:00am
Thanks for letting us know shwa girl