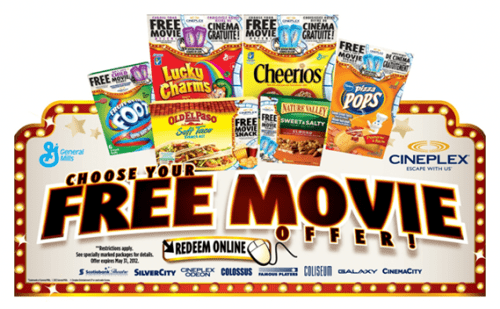 @cineplexmovies and General Mills are teaming up for a GREAT promotion.  For the next few months, promo codes will be on specially marked General Mills products allowing you to redeem it for either a Free movie admission or a buy 1 get 1 coupon.
Products containing the code are currently available so keep an eye out the next time you go grocery shopping.  Save the codes because you'll only be able to submit the codes Feb 1/2012 – May 30/2012 HERE.
As the free movie admission promo code is out for a limited time (ends Feb 29), I'd recommend you CLICK HERE for a complete schedule on which coupon will be available, for which product, & for which dates they'll be available.
A few key points to note:
– When you redeem your code, you'll be prompted to select the movie, showtime, and theater you're redeeming for.  So the May 30 deadline is pretty firm.
– The codes are good for the basic adult/child admission.  If you want to see something in 3D/Imax/Ultra AVX etc, you'll be required to pay the regular surcharge.
– There isn't a limit on the # of codes you can collect, however, you can only redeem 15 codes per session.
Full terms and conditions on the promo can be FOUND HERE!