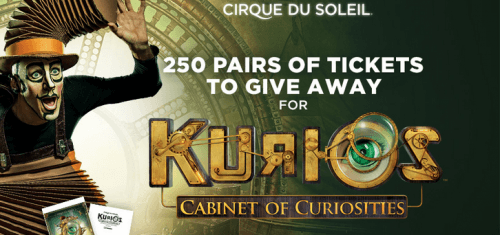 Cirque Du Soleil Canada is giving away 250 FREE Pairs of tickets to the Kurios Cabinet of Curiosities show.
To receive your free pair of tickets to Cirque Du Soleil, simply fill out the form in the link provided and choose your city. The cities are limited to Montreal, Quebec City or Toronto. Then start using your social media to share this promotion with your friends because once you have 30 friends register, your pair of tickets will be sent to you for absolutely free.
I have been to a couple of the Cirque Du Soleil Shows in Toronto and they are worth every penny, nevermind getting them for free. For a few hours of entertainment and quality time with your family or significant other, this is definitely worth the time and effort.
Good luck!
To enter for your FREE Cirque Du Soleil Tickets to the Kurios Cabinet of Curiosities Show, start referring your friends here.